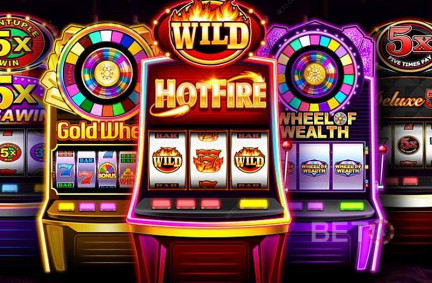 The main features of Retro slot machines
To maintain simple gameplay, most Retro Slots do not contain any special rounds or mini-games. However, many classic-themed titles spice up the gameplay with interesting special rounds and Bonus Features like Hold, Joker, Nudge, etc.
However, when you compare the functions and features of Retro Slots with futuristic, feature-loaded slots, you'll find a huge difference.
Boosters and modifiers in Retro Slots are designed with care and perfection to ensure that these Bonus Features do not overwhelm the gameplay, and the overall vintage and classic feel of the games is preserved.
Top iGaming developers keep launching new and interesting Retro Slots that give players a classic gambling experience with subtle Boosters to keep the gameplay attractive.
In some Retro Slots, the bonus round holds great importance as it allows you to aim for the Jackpot. Retro titles that offer huge prizes require you to bet the biggest wager available if you want to get a hold of the Jackpot. So, in case you landed the right combination of symbols on the grid but failed to play the game with the highest bet, sadly, you won't get the winnings. A Retro Slot enthusiast would certainly keep this in mind during the gambling session.
Some games also feature a unique modifier known as the "nudge feature", which lets you move a single symbol on the grid once. This bonus lets you successfully complete a winning combination even if you only got 2 out of 3 symbols in place for a combo. So, this is a pretty rewarding bonus that greatly increases your winning chances.
The "Hold" is another unique bonus you get on Retro Slots. This lets you keep one or multiple game reels on hold, and they do not move for the coming spin. The exact number of reels that you can keep on hold is not fixed and varies from game to game. This Hold bonus lets you keep your high-paying symbols in a fixed location, and you get to spin only those reels which contain less-rewarding symbols. In most Retro Slots, this bonus appears randomly during the gameplay and also sometimes triggers the free spins bonus round.
Wilds are symbols we all love and expect while gambling on our favorite modern slots. You won't find these Wilds in the Retro Slots. However, you get the Retro Joker feature in the classic machines that work the same way as Wild symbols do. You are allowed to substitute a particular symbol on the grid that helps you form a winning combo. As this Retro Joker Feature is a Booster and it works like Wilds, it is clear that the inspiration for the Wild modifier must have come from this retro joker bonus.
The main mechanics remain the same and it doesn't matter what kind of slot machine it is. The only things that changed with the changing time are the symbols, graphic quality, and the number and power of Bonus Features.