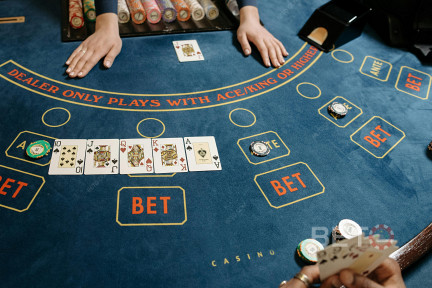 The Labouchere Strategy for Baccarat Games explained
The Labouchere winning strategy is a betting system popularly known by different names like the Split Martingale. It is a negative progression betting system. Compared to its counterparts, it's a bit more complicated but is also not very difficult, and you'll get the hang of it pretty soon.
It's widely used in Baccarat games and is curated to help the players regain their losses, but gradually, not quickly. Like the other classic betting strategies, it can also be used on many other table games.
To use this system for your next Baccarat game, you will first fix yourself a payout target. Then, you'll split it into many smaller numbers. For Example, if you want to win 100, you'll divide it like this: 10-20-10-10-10-20-10-5-5. This will look like an array. Then you'll add the leftmost number and the rightmost number, and you will bet that amount. In this case, it would be 15.
If you land a win, you'll cross out the numbers from the row and continue to dig into the array. Again, you'll add the numbers on the ends, which now would be 25, and you'll bet that.
If you land another win proceed with the following numbers. If you lose, add the amount you bet to the right end of the sequence, which will increase the length of your betting array. Then, you'll continue betting as usual.
So, it means that if you land winnings, the array will get shorter, and if you suffer losses, its length will increase.
You would have won your goal amount by the time you finished the array. One demerit of this system is that if you fall into a long losing streak, you will have to place huge bets, so take care of that. Try to add some 0s in your first numbers to make it easier.